Vaginal Yeast Chaste Tree Berry
Megabite Design
2022-06-20T17:32:08-07:00
For VAGINAL YEAST, chaste tree berry in a standardized concentrate is a powerful antifungal with recent studies showing it to be both safer and more functional against C. albicans than fluconazole, an antifungal drug used to treat yeast disorders. This is very important news from a recent 2018 study for the multitude of women who suffer from recurrent yeast symptoms, given the potential toxicity and side-effects from the class of drugs called azole antifungals. In addition, the hormone balancing effects of chaste tree berry help to maintain a stable vaginal environment that deters candida yeast from growing.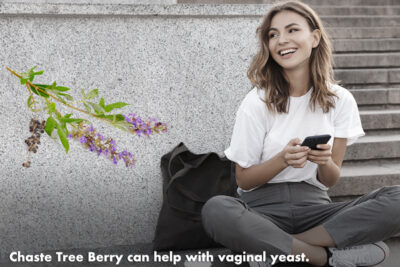 Candida albicans is the causative agent of more than 80% of candidiasis disorders, one of the most common ailments in female genital organs. Additionally, the expansion of resistance to azole antifungals among C. albicans strains is considered a burgeoning and very critical medical problem. Previous studies had strongly indicated the antibacterial activity of chaste tree berry, so a cross-sectional, non-randomized study was conducted on 450 patients suspected of vulvovaginal candidiasis visiting specialized gynecology clinics in Iran.
Calling Vitex agnus-castus (vitex or chaste tree berry) "one of the most significant plants that has antibacterial effects and can treat diseases that have become resistant to chemical medications," researchers aimed to evaluate the antifungal effects of aqueous and alcoholic extracts of vitex against clinical vaginal isolates of C. albicans in comparison with fluconazole. From the plant leaves, researchers isolated the major chemical compounds including α-Pinene, isoterpinolene, caryophyllene, and azulene. According to their results, the alcoholic extract of vitex had more powerful effects against clinical vaginal isolates of C. albicans compared to the aqueous extract of this plant. In conclusion, they stated, "Our results showed that the alcoholic extract of vitex can be considered a more functional antifungal drug than fluconazole. After performing complementary evaluations, the application of alcoholic and aqueous extracts of vitex is recommended for the control of infections caused by C. albicans regarding resistance to fluconazole and the positive attitude of people toward herbal medicines." 1
Chaste tree berry is obtained from the dried ripe fruit of the chaste tree, with its first documented use as a women's health botanical at least 2500 years ago in ancient Greece. The herb chaste tree berry, which is native to the Middle East and Europe, has been in use since Greek, Roman, and medieval times to treat many diseases in women, including endometriosis, abnormal menstrual cycles, relief of menopausal symptoms, and insufficient breast milk.
For centuries, healers have used botanicals, and herbal remedies have been handed down to us from Native American lore, traditional Asian medicine, and Indian Ayurveda. Today, scientists investigating their actual benefits and mechanisms of action find many have proven safe and effective. Chaste tree berry is used for its hormone-stabilizing, carminative, antiseptic, and antimicrobial and antioxidant purposes.2 Due to increasing proof of the drug resistance of the fungal infections caused by Candida albicans, it seems necessary to find a better alternatives and develop more effective antifungal medications.
Previous studies hinted that all the tested Candida species were susceptible to the essential oils of chaste tree berry, but most importantly, this activity was concentration-dependent.3 This is why we only recommend a product that has been standardized to a high 0.6% percentage. Results of this particular study indicated that the oils of plant origin exhibited a noticeable antifungal activity against the selected fungi, were inexpensive and had minimal if any side effects, and represented natural alternative therapies for candidiasis.
Candida albicans is a natural commensal living in the vagina, usually without causing any symptomatic episodes. This fungus is also present in the normal flora of the healthy mouth and digestive system. C. albicans accounts for 85–90% of vaginal yeast disorders, followed by C. tropicalis and C. glabrata. These fungi, which are also called opportunistic fungi, are the most common causes of symptoms, especially in patients with immunodeficiency.
Chaste tree berry also helps to balance estrogen and progesterone ratios, especially for women before periods and at perimenopause, when drops in estrogen or progesterone can increase the risk of yeast overgrowth. In our clinic, our patients have achieved excellent results taking a chaste tree berry extract that is rich in the potent active constituent aucubin and combined with whole chaste tree berry.
Recommendation: Chaste tree berry extract capsules of 400-500mg per dose, with aucubin standardized to a high 0.6% percentage, also including 50-75mg of whole chaste tree berry. Like most herbs, it is best absorbed between meals. Take one to three times daily, or as directed by your healthcare provider.
References
Keikha N, Shafaghat M, Mousavia SM, Moudi M, Keshavarzi F. Antifungal effects of ethanolic and aqueous extracts of Vitex agnus-castus against vaginal isolates of Candida albicans. Current Medical Mycology. 2018;4(1):1-5. doi:10.18502/cmm.4.1.26.
Hamid AA, Usman LA, Adebayo SA, Zubair MF, Elaigwu S. Chemical constituents of leaf essential oil of north-central Nigerian grown Vitex agnus-castus. Adv Environ Biol. 2010;4(2):250–53.
Asdadi, A., et al. "Study on chemical analysis, antioxidant and in vitro antifungal activities of essential oil from wild Vitex agnus-castus L. seeds growing in area of Argan Tree of Morocco against clinical strains of Candida responsible for nosocomial infections." Journal de mycologie medicale 25.4 (2015): e118-e127.
Falahati M, Nozari S, Makhdoomi A. Effects of several common antifungal drugs (clotrimazole, miconazole, fluconazole) alone and in combination with amphotericin B on Candida species Isolated from chronic candidal vulvovaginitis. J Fasa Univ Med Sci. 2014;4(3):327–34.
Rekha S, Sharanappa R. Anti-candida acivity of medicinal plants: a review. Int J Pharm Pharm Sci. 2013;5(4):9–16.
Afarin H, Dakhili M, Zolfaghari MR. Comparison of antimicrobioal effect of essential oil of Vitex agnus-castus with common antibiotics invitro. Qom Univ Med Sci J. 2015;9(3):12–9.
Stojković, Dejan, et al. "Chemical composition and antimicrobial activity of Vitex agnus-castus L. fruits and leaves essential oils." Food Chemistry 128.4 (2011): 1017-1022.