Polycystic Ovary Syndrome Buffered Vitamin C with Bioflavonoids
Megabite Design
2022-05-31T13:11:28-07:00
For PCOS, vitamin C combined with citrus bioflavonoids has been shown to support healthy progesterone levels, stabilize cortisol output, improve fertility, and replenish vitamin C levels which are commonly low in PCOS. According to the Mayo Clinic, other possible associated factors for PCOS include low-grade inflammation and hereditary factors. There appear to be several distinct root causes and types of PCOS: hormone-induced, insulin-resistant, and inflammation-based PCOS. Each of these can benefit from intervention with vitamin C, and its actions to reduce oxidative stress. Research indicates that oxidative stress, due to increased oxidants and decreased antioxidants in the body, is involved in causing PCOS; and that antioxidants thus improve the prognosis of PCOS.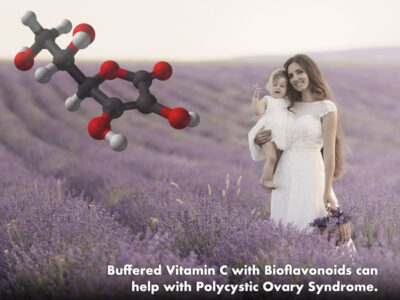 Vitamin C is a highly effective antioxidant that protects the body's tissues from damage by free radicals and reactive oxygen species that form during normal metabolism, as well as through exposure to environmental toxins and pollutants. In addition, Vitamin C helps the regeneration of other antioxidants such as Vitamin E. As an antioxidant, vitamin C is promising for disorders associated with oxidative damage.
Bioflavonoids are plant pigments that give fruits and flowers their colors. Bioflavonoids enhance the absorption of vitamin C and improve its utilization throughout the body. Amongst bioflavonoids, rutin is a vascular protector that reduces capillary permeability and fragility, while it eases varicose veins and hemorrhoids. Hesperidin helps to strengthen and protect blood vessels and their linings, and it may have a role in preventing osteoporosis. Because bioflavonoids enhance vitamin C's absorption and effectiveness, they are a valuable adjunct treatment for PCOS.
In a quantitative assessment of the diets of women with PCOS, 36.7% were found to have inadequate intake of vitamin C. A 2009 study in India sought to identify the exact pro-oxidant and antioxidant status in patients with polycystic ovary syndrome. The study was conducted in fifty-six patients and compared to controls. It was observed that there was a significant decrease in ascorbic acid levels in patients with polycystic ovary syndrome when compared to controls. The study results suggest that women with PCOS have higher oxygen free radical production as a compensatory regulation in response to increased oxidative stress. Increased homocysteine levels and decreased antioxidant capacity may contribute to the increased risk of cardiovascular disease in women with PCOS, in addition to higher blood sugar, insulin resistance, hypertension, central obesity, and disordered cholesterol or triglyceride levels.1
PCOS sufferers tend to release higher amounts of cortisol. As cortisol rises, so do adrenal androgens including testosterone, which is implicated in the menstrual disturbances, acne, and increased body hair that occur with PCOS. Vitamin C is an important cofactor for the adrenal glands to manufacture correct amounts with the correct timing of their stress-managing hormones including cortisol. This helps maintain healthy testosterone levels.
PCOS also results in excess storage of insulin in the body, often exacerbating infertility conditions. Vitamin C as a single chain antioxidant can stop the release of peroxidation processes in the body and support healthy progesterone levels needed for fertility and rhythmic menstrual cycles. Vitamin C plays an important role in hormonal balance, the regulation of the menstrual cycle, ovarian function and pregnancy, as well as robust immunity. Ascorbic acid excretion is increased immediately prior to ovulation, and then immediately rises again just after the body's temperature elevation post-ovulation. Researchers speculate that the preovulatory ovary takes up more ascorbic acid, which then facilitates proper ovulation. Ample ascorbic acid levels are stimulatory to the hormones progesterone and oxytocin, and have been found in high concentrations in the corpus luteum of the ovary which makes progesterone after ovulation.
Generous levels of vitamin C present in the ovaries may be responsible for collagen synthesis: This is required for follicle and corpus luteum growth, egg ripening, as well as repair of the ovary post-ovulation and pregnancy support. Problems with collagen formation, ovulation and ovarian repair due to vitamin C deficiency may contribute to the development of ovarian cysts.
A dose of 750 to 1000mg of vitamin C has been shown in studies to raise progesterone in women. There is a unique benefit of progesterone for women with PCOS as it can block the enzyme 5-alph-reductase, which is involved in the metabolism of testosterone. Additionally, progesterone is the hormone that helps to regulate the monthly cycle, facilitate ovulation, and reduce PMS and menstrual cramps.
A 2015 systematic review on antioxidants such as vitamin C as adjuvant treatment of polycystic ovary syndrome concluded that, "The results of all reviewed studies in this paper showed that antioxidants and vitamins have positive effects in management of PCOS and its complications, it seems more studies are necessary in this field to identify an optimum antioxidant management in women with PCOS." 2
When investigating the inflammation-based PCOS theory, there is speculation that insulin resistance resulting from inflammation may actually cause PCOS rather than being a result of the disease. Once again, vitamin C is one of the most powerful anti-inflammatory vitamins available. PCOS is the most common endocrine disorder among women aged 18 to 44 and is complex to treat as it has a multitude of contributing factors, including menstrual disturbances, reduced ovulation, elevated androgens including testosterone, impaired glucose metabolism, increased insulin levels, and abnormal triglycerides and cholesterol.
In our clinic, we choose water-soluble vitamin C in a buffered, low-acidity potassium-magnesium blend that is gentle on the stomach, with a low pH of ideally around 4.2. It is highly absorbable, and far more rarely causes loose stools than other vitamin C formulas. Bioflavonoids are a crucial component of the vitamin C complex found in nature. We like to include them with vitamin C as these plant pigments enhance the absorption of vitamin C and improve its utilization throughout the body.
Recommendation: Buffered vitamin C 1,000mg, buffered with magnesium and/or potassium, and including citrus Bioflavonoids 100-200mg, one to three times daily with any meals, or as directed by your healthcare provider.
References
Mohan, Surapaneni Krishna, and V. V. Priya. "Lipid peroxidation, glutathione, ascorbic acid, vitamin E, antioxidant enzyme and serum homocysteine status in patients with polycystic ovary syndrome." Biology and Medicine 1.3 (2009): 44-49.
Amini L, Tehranian N, Movahedin M, Ramezani Tehrani F, Ziaee S. Antioxidants and management of polycystic ovary syndrome in Iran: A systematic review of clinical trials. Iranian Journal of Reproductive Medicine. 2015;13(1):1-8.
Fenkci V, Fenkci S, Yilmazer M, Serteser M. Decreased total antioxidant status and increased oxidative stress in women with polycystic ovary syndrome may contribute to the risk of cardiovascular disease. Fertil Steril. 2003;80:123–127.
Lobo V, Patil A, Phatak A, Chandra N. Free radicals, antioxidants and functional foods: Impact on human health. Pharmacogn Rev. 2010;4:118–126.
Arezoo Moinin Jazani et al. Herbal medicine for oligomenorrhea and amenorrhea: a systematic review of ancient and conventional medicine. Biomed Res Int. Epub date 2018 Mar 18.
Azziz R. Polycystic Ovary Syndrome. Obstet Gynecol. 2018 Jul 10.
Kurdoglu Z et al. Oxidative status and its relation with insulin resistance in young non-obese women with polycystic ovary syndrome. J Endocrinol Invest. 2012 Mar;35(3):317-21.
Szczuko M et al. Quantitative assessment of nutrition in patients with polycystic ovary syndrome. Rocz Panstw Zakl Hig. 2016;67(4):419-426.
Teede HJ et al. Recommendations from the international evidence-based guideline for the assessment and management of polycystic ovary syndrome. Clin Endocrinol. 2018 Jul 19.
Zhang D et al. The effects of oxidative stress to PCOS. Sichuan Da Xue Xue Bao Yi Xue Ban. 2008 May;39(3):421-3.