PMS is helped by Chaste Tree Berry
Megabite Design
2022-04-20T17:50:52-07:00
For PMS, Chaste Tree Berry is a potent adaptogen with estrogen-balancing effects that relieve both premenstrual and perimenopausal symptoms. An adaptogen is a botanical that encourages and restores normal function by either enhancing a deficiency or calming over-activity; an example of the intelligence of nature. Chaste tree berry is obtained from the dried ripe fruit of the chaste tree, with its first documented use as a women's health botanical at least 2500 years ago in ancient Greece. Known in Latin as vitex agnus-castus, the herb chaste tree berry has been in use since Greek, Roman, and medieval times for symptoms surrounding menstruation. Women can regularly expect to see improvement of symptoms within the first cycle of its use.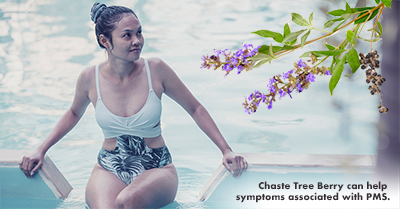 Its historical significance has been proven scientifically, as researchers have found that chaste tree berry stabilizes hormone levels in women. There are several different theories on why it is so clinically effective, but it is known that it works on the pituitary, the master gland which oversees ovary function and blood hormone balance, possibly to stabilize FSH and LH production.
Casticin, a flavonoid derived from the herb, was affirmed in a recent 2018 study for its anti-inflammatory properties, with several pharmacological mechanisms for PMS notably:
analgesic and opioidergic: pain-relieving action,
antihyperprolactinemic: reduces excess prolactin secretion from the pituitary thereby helping premenstrual breast tenderness,
immunomodulatory: modifies the immune response or the functioning of the immune system, and
estrogenic: binding selectively to estrogen receptors and mimicking the good effects of estrogen, to help gynecological symptoms.1
One mechanism may be action on dopamine receptors, which decrease thyrotropin releasing hormone and prolactin levels, alleviating PMS symptoms. A particular 2009 study looked more deeply into the ways chaste tree berry acts to relieve PMS, by working on hyperprolactinemia and other hormonal alterations to explain PMS etiology.2
Several studies have reviewed chaste berry's hormone-modulating properties and its affinity to bind selectively to estrogen receptors, mimicking the good effects of estrogen, to help female hormone symptoms.3 A study of 67 Chinese women, which was randomized, double-blind, and placebo-controlled, showed significant efficacy of chaste berry compared with placebo in the treatment of moderate to severe PMS.4 Clinical trials with chaste tree berry have shown up to 55% of patients getting significant relief from PMS-related irritability, headache and bloating.5
This herb has passed collective medical standards of review with decades of study, and with the ringing endorsement of patients and their doctors. One study concluded with the statement: 'Agnus castus is a well-tolerated and effective for the treatment for the premenstrual syndrome, the effects being confirmed by physicians and patients alike. The effects are detected in most main symptoms of the syndrome. This herbal remedy ought to be considered a therapeutic option in women in whom a causal origin for this syndrome cannot be established'.6
In our clinic, our patients have achieved excellent results taking a daily dose of Chaste tree berry extract 400-500mg, rich in the potent active constituent aucubin standardized to a high 0.6% percentage, along with 50-75mg of whole chaste tree berry.
Recommendations:
Capsules of chaste tree berry extract 400-500mg, rich in the potent active constituent aucubin standardized to a high 0.6% percentage, along with 50-75mg of whole chaste tree berry – best absorbed between meals; or as directed by your healthcare provider.
References
Chan EWC, Wong SK, Chan HT. Casticin from Vitex species: a short review on its anticancer and anti-inflammatory properties. J Integr Med. 2018 May;16(3):147-152.
Tamagno, Gianluca. "Are changes of prolactin levels the effectors of vitex agnus castus beneficial effects on the pre-menstrual syndrome?." Maturitas 63.4 (2009): 369.
Dietz BM et al. Botanicals and Their Bioactive Phytochemicals for Women's Health. Pharmacol Rev. 2016 Oct;68(4):1026-1073.
Ma, Linlin, et al. "Evaluating therapeutic effect in symptoms of moderate‐to‐severe premenstrual syndrome with Vitex agnus castus (BNO 1095) in Chinese women." Australian and New Zealand Journal of Obstetrics and Gynaecology 50.2 (2010): 189-193.
Rafieian-Kopaei M, Movahedi M. Systematic Review of Premenstrual, Postmenstrual and Infertility Disorders of Vitex Agnus Castus. Electron Physician. 2017 Jan 25;9(1):3685-3689.
Schellenberg R. Treatment for the premenstrual syndrome with agnus castus fruit extract: prospective, randomised, placebo-controlled study. BMJ 2001;322:134-7.
Zamani M, Neghab N, Torabian S. Therapeutic effect of Vitex agnus castus in patients with premenstrual syndrome. Acta Med Iran. 2012;50(2):101-6.