PMS is helped by Magnesium
Megabite Design
2022-04-20T17:51:08-07:00
For PMS, the mineral magnesium reduces anxiety, breast tenderness, mood instability, muscle aches and bloating in up to 80-90% of women suffering from PMS, because it has a relaxing effect on muscle, and calming effect on nerve transmission and the brain.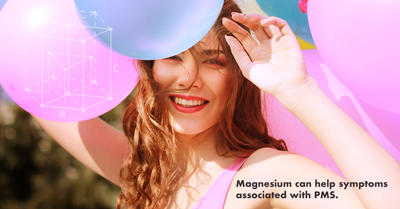 Several studies have confirmed that PMS sufferers often have low levels of magnesium within their cells. Magnesium is a well-known muscle relaxant that is successfully used to increase relaxation and reduce the pain and tension associated with female hormone conditions including menstrual cramps, even with a low supplemental dose. Although found in many foods like seeds, nuts, dark leafy greens, legumes, whole grains, and dark chocolate, magnesium deficiency is very common in the U.S. population, especially in women during the premenstrual phase of their cycles, and in the elderly. Research shows that the magnesium content of food sources is declining. Magnesium depletion may result from low dietary intake or poor absorption, or loss of magnesium due to excessive calcium intake, alcohol, diuretic drugs, oral contraceptives, or kidney or liver disorders.
Magnesium is the second-most ubiquitous mineral within cells of the body, after potassium. Its many health benefits arise from its role in activating a wide variety of enzymes, for numerous metabolic processes. Magnesium is especially concentrated in the brain, heart, liver and kidneys, where it has a critical role in energy production. Scientific literature supports that taking magnesium orally relieves symptoms of PMS.
A randomized, double-blind, crossover study tested 44 women and discovered a synergistic effect when 200mg of magnesium, plus 50mg of vitamin B6 were taken daily: Patients had reduced anxiety-related premenstrual symptoms, including nervous tension, mood swings, irritability, and feeling distressed compared to placebo.1
Yet another study evaluated the effects of oral magnesium against placebo on 32 PMS with symptoms confirmed by the Moos Menstrual Distress Questionnaire over a two-month timeframe. Those given 360mg reported that their PMS symptoms were significantly reduced and that mood changes were successfully treated.4
Studies have found that patients with cluster headaches and migraines, especially premenstrual migraine, have low levels of magnesium. A double-blind, randomized, German study showed that a single daily dosage of 600mg magnesium significantly reduced the frequency of migraines compared with placebo.3
Common dosing protocols can range from 150mg to 450mg of magnesium daily. Depending on the form of magnesium used, large doses over 500mg may cause loose stools, which is harmless but easily avoided. Incidentally, magnesium is actually used as a treatment for constipation. Magnesium should also be used in caution with anyone who has low blood pressure or kidney disease. We have found that magnesium citrate is an organic form which is particularly well-recognized by body tissues for superior absorption, at a very affordable price.
Recommendations:
150-450mg of magnesium daily, especially with vitamin B6, or as directed by your healthcare provider.
References
De Souza MC, Walker AF, Robinson PA, Bolland K. A synergistic effect of a daily supplement for 1 month of 200 mg magnesium plus 50 mg vitamin B6 for the relief of anxiety-related premenstrual symptoms: a randomized, double-blind, crossover study. J Womens Health Gend Based Med 2000;9:131-9
Guerrera MP, Volpe SL, Mao JJ. Therapeutic uses of magnesium. Am Fam Physician. 2009 Jul 15;80(2):157-62
Peikert A, Wilimzig C, Köhne-Volland R. Prophylaxis of migraine with oral magnesium: results from a prospective, multi-center, placebo-controlled and double-blind randomized study. Cephalalgia. 1996;16 (4):257-263
Facchinetti F, Borella P, Sances G, et al. Oral magnesium successfully relieves premenstrual mood changes. Obstet Gynecol 1991;78:177-81.
Facchinetti F, Sances G, Borella P, et al. Magnesium prophylaxis of menstrual migraine: effects on intracellular magnesium. Headache 1991;31:298-301.
Parazzini F, Di Martino M, Pellegrino P. "Magnesium in gynecological practice: a literature review." Magnes Res. 2017 Feb 1;30(1):1-7.
Walker AF, De Souza MC, Vickers MF, et al. Magnesium supplementation alleviates premenstrual symptoms of fluid retention. J Womens Health 1998;7:1157-65.