Green Tea Extract helps Prostate Enlargement
Megabite Design
2022-01-13T02:12:43-08:00
For PROSTATE ENLARGEMENT, green tea extract helps hormonal balance, reduces overgrowth of the prostate epithelium, and has anti-inflammatory actions. Green tea encourages healthy antioxidant status of the prostate tissues: This protective effect prevents excess cell proliferation and disease progression in benign prostatic hyperplasia (BPH). Green tea can boost a protein in the blood called sex hormone-binding globulin (SHBG). This can take up excess testosterone, and its strong breakdown product dihydrotestosterone (DHT), both of which can lead to hypertrophy or overgrowth of prostate cells.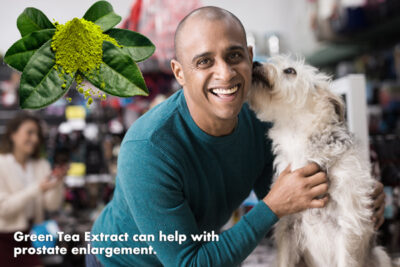 Benign prostatic hyperplasia (BPH) affects millions of American men and it is estimated that approximately half of all men between the ages of 51 to 60 have BPH, while an estimated 90% of men older than 80 are living with this condition.
Green tea is produced from the leaves and buds of Camellia sinensis and is one of the most widely consumed beverages in the world. Green tea extracts are among the most widely used ancient medicinal agents in traditional Chinese medicine. Green tea is extremely high in polyphenols which have impressive medicinal actions. The green tea polyphenols, including catechin, epicatechin, epigallocatechin gallate (EGCG), epigallocatechin-3-gallate, and proanthocyanidins, show antioxidant action as good or better than vitamins C or E in most studies. Even better, in addition to its own antioxidant effects, green tea appears to stimulate the body's own antioxidant enzymes in the liver, small intestine, and lungs. Since the liver breaks down hormones, supporting healthy liver function leads to hormonal balance. Antioxidant molecules help to reduce inflammation in the prostate. This in turn leads to reduced overgrowth of the prostate epithelium, the lining cells close by the bladder outlet and urethra, and so to improved urine flow.
Green tea catechins enhance the immune system, destroy certain bacteria and viruses, fight inflammation, and regulate the production and activities of hormones. This supports optimal hormone balance within prostate tissues. Another bonus found in green tea is the bioflavonoid called quercetin which also modulates hormones and reduces prostate inflammation.
Researchers looking at the medicinal action of green tea noted a clear relationship between a specific green tea catechin, epigallocatechin-3-gallate or ECGC, and its ability to modulate the production and biological actions of androgens and other hormones, reducing DHT and maintaining stable tissue testosterone levels. Stabilizing male hormones helps to slow prostate enlargement, reduce urination difficulties, and improve bladder emptying.1,2
In recent trials and in vitro studies in laboratories, the particular polyphenol called epigallocatechin-3-gallate (EGCG) appears to have promising results. EGCG reduced the over-production of prostate lining cells, improved bladder emptying, and even prevented the onset of BPH.3
A 2014 study of men with known or suspected BPH found that those who supplemented with 500mg daily of a green tea blend showed improved urine flow, decreased inflammation, and improvements in quality of life in as little as 6 weeks.4
High concentrations of green tea extract are necessary to reach therapeutic levels for prostate improvement. We have had excellent results in our clinical practice with a concentrate containing an ideal dose of 300-400mg per capsule dose plus an additional smaller amount of whole green tea leaf. This provides an amount of antioxidants equivalent to three cups of green tea, but without the tea's 120mg of caffeine.
Recommendation: Green Tea Extract 300-400mg once or twice daily, with breakfast or lunch, or as directed by your physician.
References
Liao, S. "The medicinal action of androgens and green tea epigallocatechin gallate." Hong Kong medical journal= Xianggang yi xue za zhi 7.4 (2001): 369-374.
Liao, S. S., and Richard A. Hiipakka. "Selective-Inhibition of Steroid 5 α-Reductase Isozymes by Tea Epicatechin-3-Gallate and Epigallocatechin-3-Gallate." Biochemical and biophysical research communications 214.3 (1995): 833-838.
Tepedelen, Burcu Erbaykent, Elif Soya, and Mehmet Korkmaz. "Epigallocatechin-3-gallate reduces the proliferation of benign prostatic hyperplasia cells via regulation of focal adhesions." Life sciences 191 (2017): 74-81.
Yarnell Katz A, Efros M, Kaminetsky J, Herrlinger K, Chirouzes D, Ceddia M. A green and black tea extract benefits urological health in men with lower urinary tract symptoms. Ther Adv Urol. 2014;6(3):89-96.
Eleazu, Chinedum, Kate Eleazu, and Winner Kalu. "Management of Benign Prostatic Hyperplasia: Could Dietary Polyphenols Be an Alternative to Existing Therapies?" Frontiers in pharmacology 8 (2017): 234.